CLASS OF 2020 - THE RESILIENT PRESTONIANS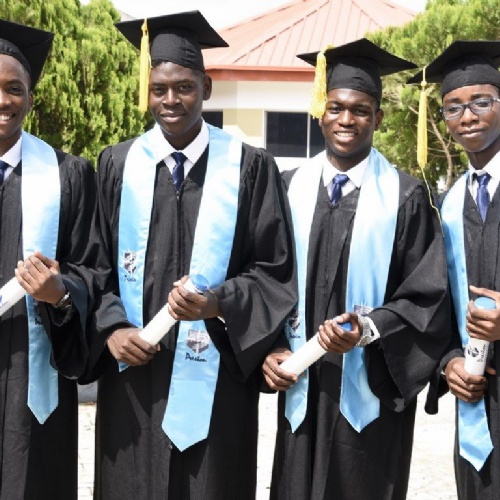 ...FIT TO COPE WITH ANYTHING
In September 2014, the Class of 2020 resumed as the 9th set of students to be admitted to Preston International School.
Their admission that year was not without its problems and delays – that September saw the Ebola fever epidemic then raging across the West African sub-region spread to Nigeria, paralyzing daily activities across the country.
Checkout some of their portraits here.
As a group of young children taking their first steps in secondary education, some of them leaving the familiar comforts of home and family life behind for the first time, one can imagine what went through their minds. They must have wondered about their luck, why this had to happen at that moment, whether they will get to go to school, learn new things, meet new people, live a new experience; and like many others, though they were children, they wondered if they would survive the epidemic which seemed hell-bent on claiming lives.
Eventually, with the spread under control came the relaxation of quarantine and safety regulations. Schools resumed and this new batch of Prestonians arrived at the School grounds. Though unaware at the time, they were a different group of Prestonians. For such young minds, they had gone through some uncertainty, perhaps a bit of fear, but they arrived bright-eyed, bushy tailed and their heads unbowed.
Over the next six years, they thrived. Through the years in Junior classes, Extension programmes, Senior classes, competitions, get-togethers, presentations, excursions, examinations, the Class of 2020 proved they were cut from a different yet familiar robe – The robe of a Prestonian, who knows that life is full of challenges, that nothing is given freely, but can be attained through innovation, hard work, determination, and the extra steel that comes from resilience - of body, mind and spirit.
View their final prize giving ceremony here.
In September 2019, they resumed for their final year as secondary school students. This was the last lap of the journey that started in 2014. Final examinations were just a few months away and preparations had been underway. Soon, they will celebrate six years of hard work with pomp and style. But then came the news in January, a new virus was at it again in South East Asia with the potential to spread across the globe! It was a dejavu moment, like the events of September 2014 was being re-enacted. By March, Nigeria had its first cases and the country was soon under lockdown. Not again, many voiced. These students were at the cusp of the most important milestone of their young lives – graduation and a push into young adulthood. Some might have buckled under extra pressure, but this resilient bunch were not to be denied. They pulled up their bootstraps, held on tight to faith in God and in time, emerged victorious.
View their dinner pictures here.
Today, 2nd October, 2020, we celebrate them who have felt and seen more than most at their age, who have experienced debilitating worry and had their faiths shaken; who have wondered about their destiny and questioned their luck, yet stood steadfast. To you all, we say we are proud of you.
Click here to view their valedictory pictures1 & pictures2.
As you go forth into the World, remember who you are and the tribe from hence you came. Remember what you have and what you have experienced. Remember your challenges and how you overcame them. Remember the good times and the times that were not so good. They made you who you are today. You are the resilient bunch, you are Prestonians.
Check out their reception here.