Preston Robotics Team Comes Through As One of the Top Five In Nigeria!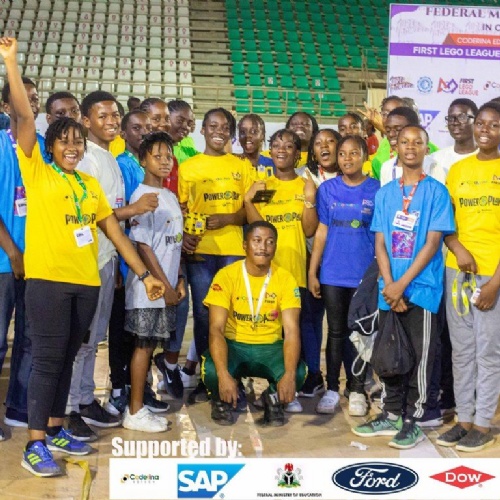 It was yet another feather in Preston's cap when our robotics team bagged 5th position out of the 47 schools in our first participation in this year's First Lego League Challenge organised by Coderina held on the 14th of February, 2022 in Abuja, FCT.
This event that had 22 Prestonians accompanied by Miss Sophia Ani and our seasoned robotics tutor – Mr Kingsley Ekanem who flew to Abuja on 11th February, assured us that our huge investment in the robotics club was well worth it.
The 13th of February had all participants at the National Staduim to defend their projects, where Prestonians demonstrated a very high level of mastery as their presentation swept the judges off their feet.
Bringing the event to a close was the First Tech Challenge where participants showcased their Robot games. Again, the two teams from Preston (D'elite and Technominds) performed impressively to the delight of the judges.
D'elite team was rewarded with the Motivation Award from Coderina EDTECH while Technominds have been chosen to represent Nigeria in Morocco in May this year!
Kudos to the directors, staff, students and our ever-supportive parents for making this happen for Prestonians! Preston has invested heavily in robotics as we recognise the place and space technology will occupy in the future. The revival of robotics, which was first introduced at Preston in 2006 but crowded out by the local curriculum demands, and a lack of its worth then, has now been aggressively re-introduced as Preston seeks to reposition itself as a foremost player in this area. These students were trained free of charge as a result of the low uptake of the club at first. We are thankful to our parents who finished the job by paying the travel costs. Kudos to them for making this happen for us.
Indeed, Robotics and ICT are the future! Robots perform surgeries, assemble vehicles, work on farms, manufacture products with precision and lots more! And that journey to an industrialized nation begins here!!!
Preston's passion for technology is second to none and will surely drive this initiative in becoming a lasting legacy in this part of the world with many high-tech engineers being produced at Preston International School by the special Grace of God. Amen.
Congratulations once again to Prestonians for performing this first great feat! Marrakech, here we come! Wishing us more victories ahead. Carpe Diem! Prestonians are coming!!!